SOUP NUMBER FOUR ~ Tuscany Soup – Version 2
These two recipes (Soups number 3 & 4)  are my own variations for a Tuscany Style Soup.  This version used ingredients I had on hand and I almost didn't get any to even taste!  This was definitely the favorite of the two versions I have made so far!
And as a reminder, most of my soups are "fashioned" to use up ingredients that I happen to have on hand.  I do sometimes have to buy something to make a specific soup but my overall goal in making these soups is to "use up" what might be sitting on my shelf or in my refrigerator. To that end, you should feel free to substitute some items and make your own variations.  I am currently making these soups for either dinner with my homemade breads or as a carry to the office lunch (or both).  I feel good about these meals because they are made with fresh ingredients.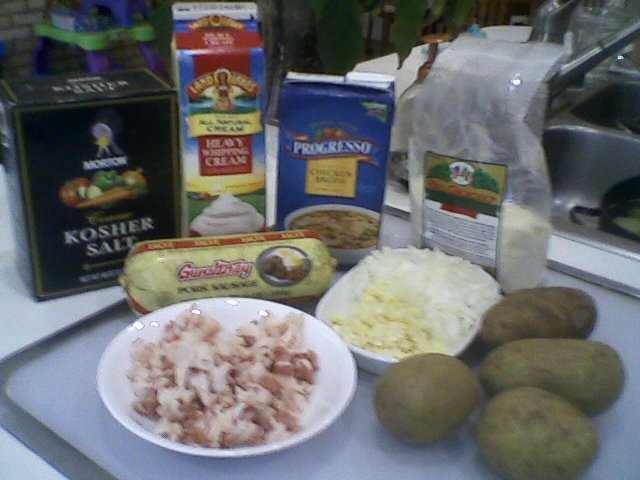 **This picture is from my phone, and so sorry it's blurry!**
Ingredients: 4 Slices of Bacon, cut into small pieces –  again  I used a kitchen scissor to cut the bacon
1 lb. Hot Breakfast Sausage
1/2 to 1 Tablespoon each of Oregano, Basil and Parsley
1 large yellow onion, diced 6 cloves of garlic, minced
4 cups of chicken broth or stock
3 cups of Russet Potatoes Cubed
salt, pepper to taste 1 cup of heavy cream Parmesan cheese, grated for garnish  
**Changes in the ingredients from Tuscany Soup – Version 1 are in red.
 The overall method to making this variation of Tuscany Soup is the same.  In a large soup pot cook bacon until crispy, then add the sausage and break it apart as it cooks.  Once the sausage is browned and crumbled, drain off the majority of the grease, leaving just a little (tablespoon or two) to use to saute the onion.  I added the oregano, basil and parsley at this point because the breakfast sausage wasn't "Italian" smelling at all.  It smelled like breakfast sausage and that was not what I had in mind for this soup.  You may adjust these spices to your own taste.  I added these slowly (stirring the meat mixture after each addition) till I went from a breakfast sausage smell to an Italian smell.  Then just like in version 1, I pushed the sausage/bacon mixture again to the edges of the pot and left a space in the center to add and saute the onion until it is translucent.  Next I added the garlic and sauteed it till fragrant. 
 Once you are done with that you will want to add the broth and potatoes and season with some salt and pepper (about 3/4 tsp. salt and 1/4 of pepper – you can always add more later).  Simmer till your potatoes are done, or longer.  I let this mixture simmer about an hour, because I was waiting for my dinner guests to arrive – and when it was apparent that they might not arrive soon, I finished up the soup  by adding the heavy cream, and slowly stirring it in.  Bring the entire mixture again to a simmer after adding the cream and simmering it again for another 10-25 minutes to mix the flavors. 
Again my company hadn't arrived, so I did let it cool down and refrigerated it.  I reheated it for my guests – and since I was making alfredo sauce and someone else was serving the soup for me, I almost didn't even get to taste it!  They did however think about me (yeah!) and saved me a bowl.  It was delicious.  There is no "ready to serve picture" because I was just so happy everyone had arrived and we were finally eating  that I didn't even come close to remembering to take a picture!
This soup was gone in 30 seconds, but everyone  (aka my dinner guests) voted this one a keeper.  It was spicy but not as overwhelmingly as it was when using the ground hot Italian sausage (Version 1) and it was "thicker" because  I used less potatoes and the potatoes cooked down more than in the first one.  It also was simmered so much longer,  that it actually thickened the soup.  I have to almost thank my guests for being late – as this soup is now a family keeper!
This version also happens to be less expensive to prepare.  The roll of hot breakfast sausage was $2.50 less than the package of ground hot Italian sausage.  It also was, believe it or not, less oily and fatty.   The other plus was that the breakfast sausage didn't add that "red" color to the soup. 
So if you decide to actually make this soup, try version 2 first! 
UPDATE: I have since made this soup two additional times by request and both times it was a hit!