I've written a couple of articles on recycling (floppy disks and CD's)  but how much do I really know about it?  Less that you might think.  Recently, I have been challenging myself – trash or recycling?  And I have been doing some things totally and utterly wrong.
Our trash hauler sorts the recycling trash … and that means we don't have to  ~  but we do sort into the two main categories, recyclable or not.  In our house, it's still difficult to keep different buckets, or bags in the kitchen to place these items into and it's not going to happen at all if we have to walk around the house to the appropriate bin each time we use something.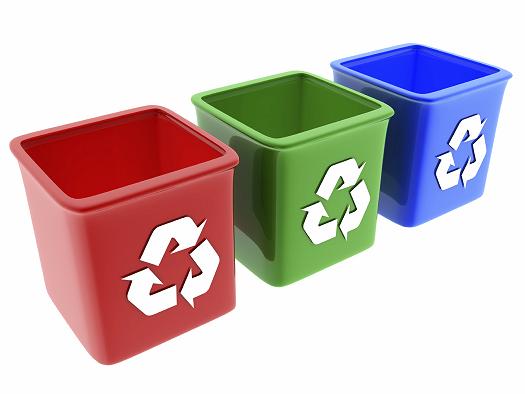 But do you realize (I didn't) how much you hurt the entire process when you throw something into the recycling bin, that should go in the regular trash?   The key word here – contaminate.  Just one item can contaminate your entire recycling bin contents – to the point it just goes into the regular trash and landfill and you've wasted your efforts? 
I am guilty of making the following mistakes,  so I'd like to "recycle" the things I have learned and use those experiences to educate someone else on what you should or should not recycle.
First, my biggest mistake, and on my priority list to fix, is using plastic grocery bags to both hold and then throw away my recycling.  These bags aren't the type of plastic they want in the plastic mix at recycling plants, and worse they get stuck and gum up the works on the belts.  Since I make it worse by tying them closed – I am potentially making all my recycling efforts null and void. These bags need to be recycled at the grocery stores where they have specially marked containers for them.  Those containers keeps all that "type" plastic to one location and yes, although it's not a "great" recyclable plastic, it will get recycled.
Next, I really didn't know that some places cannot recycle/do not accept packaging from frozen foods – because the cardboard is wax coated.  This type of cardboard packaging is made to withstand moisture in order to protect the food that is inside.  Cardboard and paper are usually recycled using water to create a pulp, but paper sprayed with wax will not break down into a pulp for recycling.  Sometimes these can be sorted out of the recycling mix, and sometimes the recycler just "trashes" the entire can/truck/load containing them because most buyers of the paper don't want the "contaminated" waxed cartons in the loads they are purchasing.   In fact any packaging made with foil, glossy, glazed or lacquer coatings need to go into regular trash.  This includes candy wrappers, pretzel bags, juice boxes and ice cream cartons!
And it really is all about selling these items in bulk to those who can and will reuse and remake them into more consumable products.  In fact, without those buyers, there wouldn't be programs to keep these items out of the landfills.
I really thought by now we'd be able to recycle just about anything and so most of my trash is going into the recycling bin – but as you can see I was wrong about the plastic grocery bags and frozen food containers.  As I read advice on several sites about recycling I came across some other things you should not put into your regular recycling.  I am still hopeful someday we'll find a way to recycle everything.
The list you still can't recycle include wire hangers, paper towels, napkins or tissues, ceramic mugs, pottery, styrofoam,  photographs, molded plastic parts, pizza boxes, Chinese food containers, heavily dyed paper, plastic bags and wraps, household glass (think windows and mirrors) or cosmetics.   All these things still need to go into your regular trash.
One last thought, although you can't recycle everything on trash day, there are many things you can recycle in non-conventional ways.  It pays to keep thinking outside the box and finding new ways to reuse those items.