Well, it's one thing to think about it — another to plan it out — but it's really amazingly fun to actually do it.
So far there are no regrets, and we are hoping that all works out well with this new adventure.   It has technically begun with the purchase of the RV/Motor Home that we will be traveling in — and here he/she (yet to be determined) is!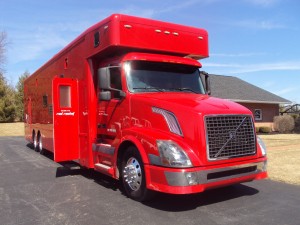 The plan was always to get one of these amazingly built motor homes that use a Diesel Cummins engine and which can pull with ease and travel a million miles or more!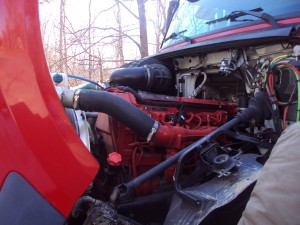 AND…. yes, that is RED – and we understand the first owner had it painted that color on purpose and we LOVE it.   It's a home that sleeps 8, and has a 12 foot garage on the back with wonderfully made and built in tool boxes.  The interior isn't as colorful – but over time that could change (smile) as we laugh, and sing, cook and enjoy our adventure.
One thing I can be certain of — you will see us coming and recognize us wherever we go!