I know, I know.  This was going to be so much fun.  And we (hubby and I) were planning on long term trips with the extended family …. but not all dreams come true.  PLUS —  we knew from the start that this was an experiment — and that we had to see how it all worked out.  The dream was my eldest sons, and mine, and none of us knew if it was going to work out.
This Adventure was our only our second trip out in this gorgeous truck —  but it was also our longest trip experience together.  We planned to start in South Carolina at the Carolina Adventure World, then we headed to Georgia and finally a stop in North Carolina before heading back home.
Our first day on our second trip started out with a LOT of driving.  Let's just say 7 hours in a truck with 2 little ones, is a long haul.   Did you catch that… 2 little ones?  The trip wasn't really 100% planned in advance, but when my granddaughter arrived early and there was nothing to stop us from traveling — we packed up the truck for a week worth of camping, the ATV gear and started out.  And while both children were in their safety seats strapped in for the majority of the time (except for the rest stops and other reasons along the way), the 3.5 year old was not happy to be in that seat for long periods of time.  I guess I don't blame him — we were all kinda in our seats for a long time to cover that distance and still get to South Carolina with enough time to hook up, and take an ATV ride before dinnertime.
Our first stop when we got to South Carolina was at  the Carolina Adventure World – it was a nice clean place and had nice amenities.  They had good size parking spots for our huge truck and trailer – and provided fire pit area, picnic table and nearby showers and bathrooms — as well as a restaurant,  and general store … in case you forgot anything!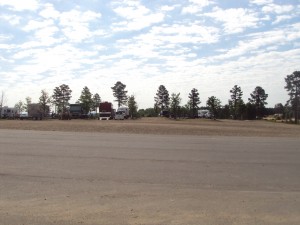 It's hard to see our RED truck in this photo, but you can see the amount of space you get per "lot" and the amount of space around the rig so that maneuvering – thankfully –  isn't like parallel parking.  There were some amazing people here and we totally enjoyed our time.  This place has lots of trails and lots of riding possibilities.  We noticed a lot of side by side UTV (Utility Terrain Vehicles) and many were "decked out" with what looked like comfortable seats and built in coolers! There is supposed to be 100 miles of trails on their 2600 acres of private land at this park – and while I stayed home at the motor home most of the day, I am sure my son navigated and likely saw them all!
It was at this park that we first let our grandson, who would have been about 3.5 years old at the time, ride his 4-wheel ATV all by himself.  It was in a huge open field and his parents had been riding with him now for some time showing him the controls and how it worked.  He mostly went "straight" during his first outing on the 4 wheeler alone — but the time we got to Georgia, he rode almost like a seasoned pro around the kids track.   Below are some pictures from the Carolina Adventure World.