Today I started with one pound of beef cubes out of which I wanted to make a stew.  This beef stew was supposed to be "scaled" down somewhat for just the two of us.  However, we wound up with enough for second meal.  I feel good about that for two reasons, one is that I don't have to cook tomorrow, and I used up a lot of things waiting to be used in my refrigerator.  I also didn't use a recipe.  I looked into my closet (at spices and such) and into the refrigerator for what we had on hand, and away I went to create dinner.  I want to call this stew "whatever you have in your refrigerator to use up beef stew" but the name is just way too long.  Fridge Leftovers Beef Stew?  Use it Up Now Beef Stew… well, you get the idea.  This stew isn't going to be hurt by a little less peppers and maybe some broccoli, or green beans etc.  If you have leftover cooked vegetables, add them to stew about 10 minutes before it's done.  Stir them in, put the lid back on and they should heat up fine. 
And if you haven't already guessed, we are again using the cast iron dutch oven on the stovetop.  I use this pot because it's just plain easy, the dinner is cooked super fast and it cleans up easily. I just can't see a downside right now.
First, I cut all my ingredients (onions, peppers, garlic, celery) which I specifically chose simply by what I had in my refrigerator and wanted to use in this stew. However these are all things that are going to give that great flavor you want in your stew
Then, I mixed the flour, minced garlic, minced union, black pepper and thyme. 
I dissolved the bouillon cubes in the cup of water, as well as having the second cup of water and the other ingredients ready to go.
I sautéd the onions, garlic and celery in olive oil in the dutch oven, on the stove top. Once they are done, remove them from the pot and set them aside.  I turned up the heat on the pot, put in additional oil and waited till I thought it was hot enough to sear the meat.  I dredged the meat in the flour mixture (made earlier) and then put it into the hot pan. You have to watch this and stir as your goal is just to brown the meat.

 Once your meat is browned, the rest comes very fast.  I put in the dissolved bouillon and water and stirred. The potatoes on top of the meat, then the cooked onions, peppers and celery, the red pepper flakes and the bay leaves.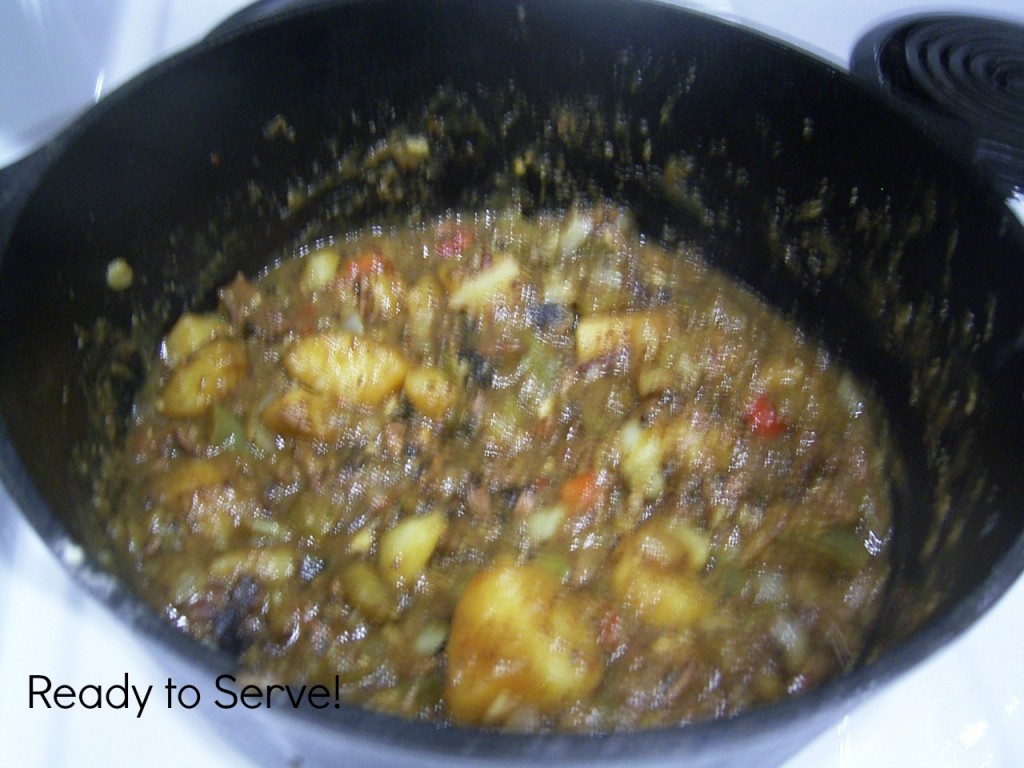 Lastly I added the worcestershire sauce on top of it all and closed the lid and moved the heat down to low. 
You need to move the heat down to low!
I cooked mine for 45 minutes, took off the top and stirred the contents. 
It was perfectly done. Please remember to remove the bay leaves before you serve the stew!
It was a nice hearty, thick stew, and again it was delicious.   I served biscuits with this for a hearty Saturday meal.