We  were anxious to get going on our first trip — but we knew we had to do the repairs/reviewing and checking.  There is nothing less fun than getting out on the open road, headed for a cool place to camp and finding out something serious is wrong with the truck.  Especially for newbies like us!
At the least it's a delay, at the worse it's a trip killer.
So we worked as hard as we all could checking and rechecking things.  Making sure everything was in good working order on the truck was primary, but also we made lists of things we needed to bring with us for a comfortable trip.  Things like my tailgating grill, food, snacks, paper products – pillows, blankets, towels — you get the idea.  When you are first starting out with a motor home,  you just don't have a feel for everything you might need!  I am thankful for a friend who does have a motor home,  and the time she spent letting me know about some very important items to make sure you have with you.   Some of those items included a first aid kit, bug spray, sun screen and loads of paper towels!
The first trip was just going to be to the Breezewood Proving Grounds.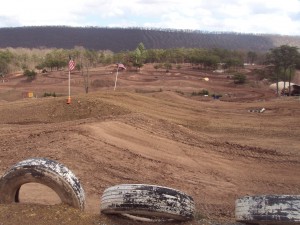 It's located in Pennsylvania — and lets say about 100 or so miles away.  Breezewood is an ATV/Motorcycle park which allows you not only to ride around the grounds with your chosen mode of transportation, but also has 3 "race" tracks for you to ride on, a campground with and without plug ins and other amenities.
The first spot they assigned us to park in…  wasn't working.  We couldn't back in to hook up because we had to be able to get the Razor, and ATV's out of the back garage — and we couldn't pull in because we didn't have a long enough electrical hookup cord.
We learned from that, and was able  to park "sideways" in a different spot at this park, but made a note to get an additional electrical cord for our next adventure.
Additionally, a pull thru spot might also work for this huge truck — so it's something we will look for in the future.
We didn't take the "extra" trailer we have talked about taking to carry a car.  This trip we weren't expecting to have to make any trips outside the park or to any other location — but there will be times we will need an extra vehicle.  We would have had to park the tow vehicle in another location – because even being sideways there would not have been enough space right behind our truck for it.
This park was relatively empty when we arrived and we were the only one in the RV lot – but as the weekend approached, so did the other campers.  We learned there are some who come by each weekend to ride, party and camp.  I am thankful even though they were close to us and we could hear the music, it was not overwhelming and did not stop us from going to bed early or "eventually" sleeping.