There are times when you know that you are just…. THE ODD WOMAN OUT.
This weekend I had what I consider to be a unique opportunity – I won a giveaway sponsored by Duncan Hines® to be a guest of one of their bloggers at a unique and fun event at their headquarters.
I entered for this on a blog — and while usually the prizes given away on blog sites aren't a trip, this one was one that sounded like an opportunity I couldn't miss.
And yes, I won it from a cooking/baking blog called RealMomKitchen. I wasn't even the first name drawn, as the first choice didn't respond to the win notice. That means that I was double lucky. I was lucky the first person didn't respond and then lucky enough to be chosen as the replacement.
I really was excited and thrilled to have won. I absolutely love to cook and bake. I absolutely love the Pinnacle® Brand of Products of which Duncan Hines® is only one…. and I considered this — for me — an opportunity of a lifetime.
I don't usually enter for trips to travel alone — but because this was in NJ (where I was born) and because it was to a Duncan Hines® Event – I considered it was going to be more than just a trip for me — AND IT WAS!


The entire weekend was fabulous!
There were some other candidates for the odd woman out title …. those who felt they were "ignored" by the blogs representatives where they had entered – feeling that as a fan and subscriber they meant nothing to the blog owner — and there were some other minor (in my opinion) things to make others feel as if they too were the odd woman out.
But I think I qualified and won that event  – because I spent the entire weekend hungry.  I was not only hungry for the information provided, and for the companionship of the other accomplished bakers, but physically hungry.  
You see I have allergies. Severe allergies. And the foods provided by this spectacular food company just couldn't really avoid using corn, fructose and fruit, or related products in what they provided to us to eat.   Don't get me wrong, they provided a ton of food, including unbelievable desserts and everyone but me got to eat well.  Some ladies were even hitting the gym in the hotel to work some of it off, I instead felt like I was going to pass out from hunger. 
It was not 100% their fault, I mean although I filled out my questionnaire listing my allergy, I just don't think it must have been taken that seriously.   Most people do not realize that there is hidden corn/fructose in products they eat every day – and for the most part don't have to.  But even commercially prepared bread has corn syrup or fructose added –  and although it's necessary in many cases to be able to provide a consistant product – do you think about that when you serve it?  Usually not. 
The first night, when I had some green beans and a couple slices of meat/turkey — since it was at the hotel — I thought it would be better the next day.   It wasn't.  
Do you know the ingredients I asked in the ranch dressing?  And they acted like I had asked them in a foreign language.   The answer, oh it's just regular ranch.  Helpful?  Not really.  Their reason for not knowing,  "oh we're just the marketing people".   I asked because there are products, and even commercially made ranch dressing that I can eat.  For lunch I was having only lettuce and tomato (the only things provided that I could eat) and I would have to eat it dry if I couldn't find out the ingredients of the dressings.  I couldn't even have the chips because Lays® products use oils, including corn oil to make their products (which I learned the hard way trying it one time).
To their credit they have a kitchen and they did make me a balsamic vinaigrette that was fabulous — but it didn't quench my hunger.  I really needed some protein which wasn't available.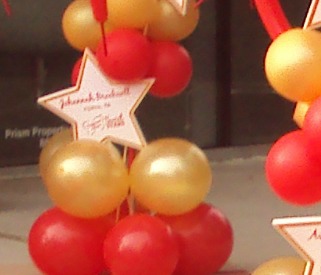 We spent the entire day learning about great stuff from decorating cakes to making simple sauces, and decorations for our creations.  I would never have wanted to miss a minute of those demonstrations, they were that good!!!  But I couldn't eat or even taste any of that because almost every item contained or used corn syrup. 
   I didn't feel "left out" because I know my allergies limit me to what I personally can and cannot have.  I am used to doing without, and not sharing in many of the wonderful things that I love to cook and bake — including desserts.   I cannot eat most commercially made products and/or even indulge in most fast food choices.   I didn't expect, nor would I ever expect a menu to be made around what I could or could not eat.  But, I can't just have a bagel, or a waffle till I know what's in it.  Sometimes they use flours that have corn flour mixed it (from a previous allergic reaction having a pancake in Maine).
   My reactions can be just from my lips and nasal passages swelling, to migraine, to asthma attack, to having to use all the techniques in my arsenal, including my epi-pen to quell it. It's not an easy journey. I cannot take a chance and just "try" something without considering it could be the last bite I take.
   What made me the Odd Woman Out contest winner this past weekend was that no one even vaguely considered how hungry I would be all weekend without being able to eat the provided food? 
But, am I still a Duncan Hines® Sweet Star?  You bet I am!
**Disclosure: I was not compensated in any way for this post, and all the information contained here is 100% my personal observations and perspective.