What do you do …. just for fun?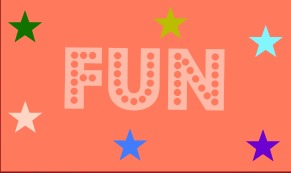 I'll bet many of you answer – that although you find some fun in every day… you don't always go looking for it.  That's the way it happens with me.  And in a way that's sad.  Life as we age, goes by faster and faster – leaving less time for any the fun we tried to save for later.   I know I tried to do everything for everyone in my younger years knowing that some day I would have time to just sit and relax, and have that proverbial (although elusive) time for smelling the roses.  And I am still planning on doing some of that!
Most of the things I enjoy, I do alone.  I love to cook, bake (and eat), read, enter sweepstakes and pretend that I am an extreme couponer – but all these things are not really team sports.  For me these are fun — but these would not be considered fun for everyone.  In fact, I know a few people who would actually call cooking an "extreme" chore. 
I don't think I ever tried to built fun into my daily day – thinking way too long and way too hard about what needed to be done, and then by default taking care of all of it.  I am not bitter – I feel very "accomplished" — even if no one else in my family had a clue how all that "stuff" was getting done for them.  In fact we still have magic towels  — they get used, and thrown on the floor and then magically re-appear all clean and folded and ready to be used again in the closet!   My life bears witness to that because we (as a family) are where we need to be, at this point in our lives, and although I might have quashed the fun out of it…. we are there nonetheless. 
 My personal issue now is that since I never allowed myself any fun in the past — always making sure every "i" was dotted and every "t" was crossed – that I find it really hard torelax and let "fun" happen.  When some bit of fun creeps in, I try and  let it happen, but then  I am pretty quick to call it "over" and get back to normal.  Why is that?  I think it's habit.  And I think that the longer you go without it, the less time you want to spend on it…. fun that is!
So if you have any tips on how to "let fun happen" let me know.  I am looking to put some fun into every day … if I can.