Let me first say… I do bread.
The learning – for me – took a few twists and turns but eventually I learned how to deal with yeast.  In the beginning of my journey my loaves were just plain gorgeous, as were my yeast coffee cakes – however no one could eat them.  They weighted about 2 tons out of the oven and the only result back then that I could guarantee was that I would have another beautiful piece to varnish and use as a doorstop.  Oh, we laughed heartily back then about all those gorgeous "mistakes"  I made.   
I couldn't seem to follow a recipe and get a result that we could actually eat.  Finally I was able to master the yeast – get to understand what it wanted from me to perform it's best and what I needed (without fail) to do to insure it worked as it should. 
And then… I could say – I do bread.  And I still do bread and cinnamon rolls, and other items containing yeast without hesitation.  I started making bread because of my allergies.  It seems most commercial products contained some form of corn.  I am allergic to corn, and also fructose so that I cannot have anything containing either corn or fruit.  When I found this out and started reading the labels I knew that I needed to start making bread for my family all the time.  
Fast forward to today.  My favorite breads to make today are the Artisan breads. When making Artisan loaves – especially the Artisan Bread in 5 Minutes a Day from Jeff Hertzberg, MD and Zoe Francois or the No-Knead Breads from Jim Lahey and Sullivan Street Bakery – you discover just how easy and fun making your own fresh baked bread can be.
I really wanted to try the rye bread… so here is my first attempt at Artisan Rye Bread!
This recipe is from the Artisan Bread in 5 Minutes a Day Cookbook and is slightly adapted because I cannot use either the cornmeal for sprinkling nor the cornstarch for the cornstarch wash they recommend.  If you want their recipe and to know about those two items, you will have to check out their book for that information.
I am listing the names of the ingredients I used because I have found that sometimes, the actual brand will make a difference in the finished result.
3 Cups Lukewarm Water (I made my 100 degrees)
1 1/2 Tbsp Fleischmanns® yeast
1 1/2 Tbsp Morton® Kosher Salt
1 1/2 Tbsp caraway seeds (plus more if you want to sprinkle them of the outside)
1 Cup of Organic Whole Grain Rye Flour from Arrowhead Mills®
5 1/2 cups Gold Medal® All Purpose Flour

Mix the rye and all purpose flour and set aside.  Next mix the caraway seeds, the yeast, and the salt into the water in a large container.  Once mixed, add in the dry ingredients.  Do not knead.  Just add them in and stir them to combine them.  Once done, set aside covered with a towel and allow to rest at room temperature for about 2 hours. 
I actually went back to the dough exactly 2 hours later.  Dusted the surface of the dough in the storage bowl with flour, and my hands and parchment paper, grabbed about 1/4 of it and dusted it while making it into a ball and then oval to put onto the parchment to rise for about 40 minutes.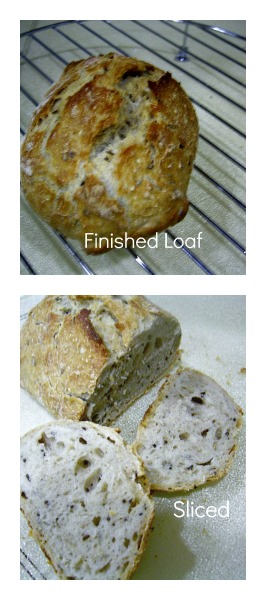 In the meantime, I preheated my dutch oven at 450 degrees.  I used this method instead of the pizza stone, and water method to get a crispy crust because I cannot do the cornstarch wash.  If I wanted caraway on the outside of my bread I would roll my bread dough in the seeds before putting it into the dutch oven.
Once it's oven ready, I quickly open the dutch oven, throw in the bread – slash a few deep cuts into it and place back the lid.  I cook it for about 20 – 30 minutes and then remove the lid.  I cook it for an additional 10-15 minutes for that nice brown crust to form. 
Remove to cooking rack and wait till it cools before you cut it!  This recipe is a keeper for me. The bread is delicious and the preparation is easy and quick. I can't wait to make the remainder of the loaves (the recipe can make about 4 – 1 lb loaves!)