Do you always believe the reviews you read? Should all reviews be honestly written? I believe they should!
Today this review is for Dr. Scholl's® Gel® Insoles.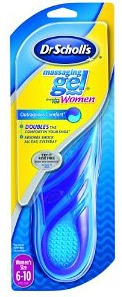 I received the pair I am currently wearing as part of a BZZagent program. However that has no effect on this review.  All opinions are 100%  mine.
I have used insoles in the past.  Some of those were made by Dr. Scholl's®, but they weren't the only brand I have tried.   I probably tried every brand sold because I was trying desperately to stop my feet from being achy every evening.  But, for some reason, I never really felt compelled to try the gel insoles.  My reasons were the price, and I thought they would be squishy and my foot would not feel stable in my sneakers.   In other words, I'd wobble.  If you know me and are picturing that… no laughing, wobbling is no laughing matter!   The good news is I am in week two of wearing this complimentary pair and guess what… no wobble and I love them!
These particular ones, the massaging gel insoles are working for me and my achy feet.  For now the memory of those tired feet is fading into the past and I really do have Dr. Scholl's ® Massaging Gel®  Insoles to thank.  From now on, they are the insole I will be using.  Thank you Dr. Scholl's ® for this opportunity as I am pretty sure I never would have tried these without the BZZAgent program.
**