Now that I am getting back to normal, and I have so much less on my plate to do for others (see Change is Inevitable), I have decided that I really need to start cooking again.  Lest you think that's a joke, let me tell you, I have not cooked anything from scratch in a long time because of the heat, the power outages, or just plain exhaustion after working all day.
The heat and humidity around here has been unbearable most days – for the entire month of July.  That scenario drains all the energy from my old body and it makes me totally unmotivated to do anything.  And although I made sure I completed all the things I had to each day, anything and everything that could be – was put on hold.  And, I didn't cook. 
Yesterday, I decided I needed to start cooking again.  I had a pork roast thawed, so I decided to make a medium hot and spicy pork roast.  This is out of my normal comfort zone.  I could have made something I had made 100 times before with 100% success, but there was no fun in that.  I also decided I did not want to use the oven – and considered the crock pot, but decided on the dutch oven on the stove top, which was also a first for me!
First I gathered information on the internet on which spices I needed to use, and how to combine them.  I did this by reading recipes for spicy pork roasts.  I didn't see any that involved all the ingredients below, but many contained some of them and they gave me the inspiration to "try" what I thought would work. My main influence was from a Filipino recipe I saw and the resulting "praises" from the people who had tried that recipe. 
The picture is the ingredients I originally assembled, but as you can see I added more.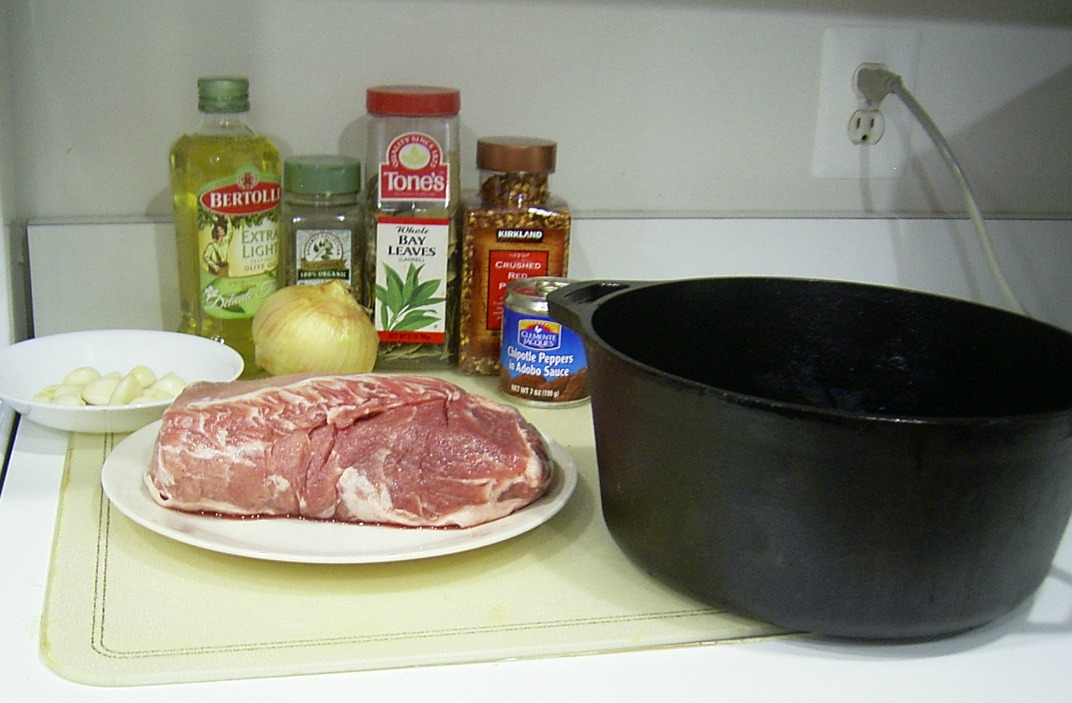 3.5 – 4 lb. Boneless Pork Roast
4 – Yukon Gold Potatoes peeled and cubed (large cubes)
2 Tablespoons Oregano
3 Bay Leaves
1 Medium Garlic bulb – peeled and separated
Olive Oil – as needed
1 Medium Sweet Onion- sliced and chopped
½ Teaspoon of Crushed Red Pepper
1 small can of Chipotle Peppers in Adobe Sauce
¼ Cup of Kikkoman Soy Sauce
2 Tablespoons of White Vinegar
½ Cup of Water
⅓ Cup of Sugar
The first step for me was to make that spicy hot sauce.  I used my Cuisinart Chopper/Grinder and added the entire can of chipotle peppers, the 2 tablespoons oregano, all but 2 of the larger cloves of garlic, ¼ of the onion, ½ cup of water, ¼ cup of soy sauce, ½ tsp. of the crushed red pepper, ⅓ cup of sugar and 2 tablespoons of white vinegar.  I ground/chopped/combined it and then put it into a bowl and set it aside.
Next I put a little olive oil in my dutch oven over medium heat on the stove top and added the remaining garlic (which I had sliced thin) and all of the remaining onions.  I cooked them till the smell was amazing and the onions were just getting transparent.  It didn't take long.  I put them in another bowl on my counter and proceeded to brown the pork roast on all 4 sides. 
Once the pork roast was browned,  I put ½ of the sauce I had made over the top, making sure to "paint" the roast with it.  I put the potatoes in on both sides of the roast, added the onion and garlic to the top of the roast, and put the remainder of the sauce on top.  Last I added the 3 bay leaves, and put the top on to start it cooking.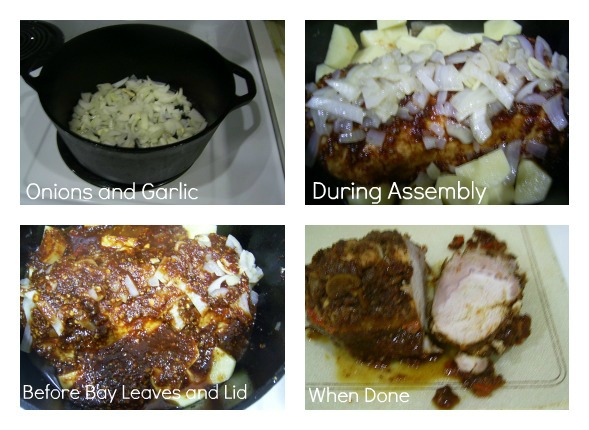 Just 1 hour later on low – it was done.  I immediately removed and discarded the bay leaves. I think if I make this again, and you can bet my family is already hoping for that – I'll try checking it a little earlier because the internal temperature of the pork was a little higher when I checked it than I needed.  It was still delicious.  My son gave me the ultimate compliment when he said it was spicy and sweet when you ate it and then gave you a punch of heat. He said I should make this my "signature" hot sauce.  That sure makes me want to try it with some chicken or shrimp!
Cooking Again – Spicy Pork Roast – It was a hit with the family too!its-annoying.com/cooking-again-… via @Its_Annoying #recipe

— Johannah Brookwell (@Its_Annoying) July 30, 2012