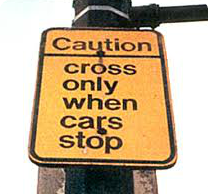 Do you have it?  I always thought that someone who does something foolish is lacking in common sense…. but I am finding out sometimes people are just fools and to me that's annoying!
Every day I see examples of people acting, doing and saying foolish things.  Who do they think they are kidding – doesn't anyone else see the ridiculousness in all of this?   All my life I would have done just about anything not to be a fool.   Yet today people seem to embrace foolishness and call it being unique, one of a kind, "who they are" or "how they roll."   I beg to differ.  You are not a fool if you dress differently, like a certain style of fashion or music, or even if you are unique in some bizarre way. 
You are a fool if you blatantly violate the rules of common sense.  Common sense says you don't walk in front of a moving car – unless you are trying to kill yourself.  It says you don't drink household cleaners or "mess" with bath salts.  It's that small voice that says this is just plain wrong, don't do it. 
Your common sense is lacking, and by my definition you are a fool if for example, you are a judge and make a ruling that clearly wasn't backed up by the witnesses for any reason.  If you are a police officer who pulls someone over for having a light out and then beats the crap out of them because you felt like it.  If you are a mother who thinks she can have her crack and still take good care of her children.  If you are a father who thinks buying video games each month or anything else is much more important than paying your child support and worse still doesn't understand that those children are your responsibility.
When you take things that are valuable in this life (justice, order, parenthood) and throw them away in favor of your own selfish and sometimes childish wants, needs or desires, instead of doing what's right, and what needs to be done you are a fool.
I just pray I never fall victim to any of your foolishness.