I am not keeping up.  Things move so fast anymore that I can't believe it's actually 2012!
What annoys me today is teens and young adults take things I never knew existed, saw or had totally for granted.  They expect more from technology, and they whine when it's not available.  So I thought I'd make a list of things that I didn't have growing up which today we take for granted.  Here goes:

When I was growing up there was no:
Color TV  – it was actually just coming out – my parents bought one, it caught on fire and that was the end of that.
Microwave Oven – we bought one of these after we were married, a Quasar. It still works, and we still have it (35 years later), it's a huge and heavy appliance and we aren't sure how to properly dispose of it.
Canned soda –  wasn't available.  Soda could only be purchased at the soda fountain in your local candy or variety store, or in quart glass bottles.
Bottled water – all water in those days came out of the tap, like it or not.
Microcomputers, and all that go with them like floppy disks, hard drives, and memory chips.
Cell phones – if you needed a phone, you would have to knock on someone's door and ask to use their phone, find a telephone booth and have a dime, or just not have a conversation. No one called to tell you anything, like they'd be home late, or the traffic was bad, you just had to wait it out and wonder.
The Internet – no online games, no such thing as email, and certainly no facebook.
Satellite Dishes/Cable TV – we got the NY stations, all 3 of them from a antenna strategically placed on our rooftop – analog not digitally.
CD or DVD's – that's right… none. We did have 8 track tapes and record players. If you wanted to see a movie, you had to go to a theatre. In 1965, the ticket price for a movie was 35 cents.
Digital Cameras –  my dad loved photography, so he had a Polaroid camera which allowed pictures to develop right before your very eyes – otherwise your camera needed film and developing to get a picture – and that method was far from instant.
Air Conditioning – if you wanted air conditioning you bought a window unit to cool your bedroom. My dad installed an attic fan that basically sucked the outside air in each night. It was powerful enough so that you felt a breeze with your windows open, but it wasn't always a cold breeze. Air conditioners were available but expensive and most households attempted to do without them where I lived. Most cars also didn't have them because it was an expensive option.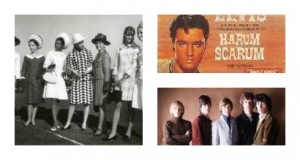 Anyone want to go back?