Today I am writing about one issue I have with my insurance company.  You might know them, the one with the high rates, large deductibles and copayments.
Did you know insurance companies can totally deny your claim for any reason?  What I want to know is at what point did we (the consumer, the customer, the client) allow them to deny medicines. Shouldn't they just have to suck it up and pay if it's prescribed and we are on a plan with them (especially if we've been on it long term and it works?)  Shouldn't the highest tier pay for any medications we need?  It used to — things have changed.
My allergy medication was "denied" by my insurance company.  I have taken this specific medication since about 1990.  This medication which is old (first generation antihistimine) and no longer produced by any of the top pharmaceutical companies, was the one that I relied on daily to keep me from gasping for breath.    I have gone from needing an inhaler every few minutes to actually not using one and I credit this antihistime with that magical power.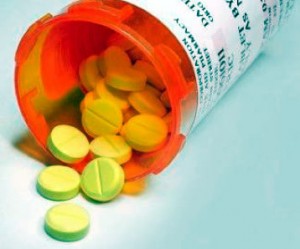 The current manufacturer of this antihistime (who I had to find on my own) and who currently produces it obviously doesn't discount it enough for the insurance company, or they chose not to use them.  But does that really matter when the insurance company doesn't accept the fact that I need that particular one in the first place?
Forget that it works excellently for me, forget that it keeps my allergies and asthma under total control —  it doesn't matter at all.  The insurance company says the newer over the counter allergy meds would work and therefore, if I insist on having this particular one, I need to pay for it myself.  Even a letter by my doctor to the insurance company indicating that I had tried others without the same result did not convince them.
Recently a change in their drug formulations chart (the ones they approve and at what level of copayment) said they now were classifying it in the third tier.  My initial joy at seeing it on their list (since in the past they have flatly denied it all together) wasn't justified.   My new copayment structure along with it being on the third tier, now makes the "copayment"  higher than the actual cost of the medicine.   Go figure! 
Please always check to see if your medicine can be obtained in a generic equivalent.  Your doctor can allow generic substitutions on the prescription itself or the pharmacy can call and ask if he doesn't.  I can't always take generic because I am allergic to the binders used in many generic medicines.  These binders are not required to be on the ingredients list, and are most times not listed.  This is why my medicine issues are seriously annoying – how can you prove, or disprove something isn't going to cause you an ER visit when the ingredient is not listed on the package, and by law does not have to be?
If you can use generic (consult your doctor first) these are usually  $4.00 for a 30 day supply, or $10.00 for a 90 day supply.  One of my medicines is available in generic, and which then again ironically puts  it under my insurance plans $15.00 copayment  (the lowest tier) for a 30 day supply.  Why does using the insurance copayment make it cost 375% more?   I had the choice to pay $4.00 vs $15.00 –  but I had to specifically ask the pharmacy not to use my insurance copayment and let me pay for it myself to get the lower price.   Who was going to keep that extra money – the insurance company, the pharmacy? Who knows why it works this way, but don't fall for it.  Check every one.  You can usually go online, call or visit the pharmacy you want to use and ask about the pricing of any medication.  Always ask about the generic program or seek out a pharmacy that has one. Remember this is your money, and throwing it away just doesn't make any sense.   I now always ask, it I had no insurance, what would the price be?  Yes, friends sometimes it is less than your insurance copayment.  So, if your medicine can be obtained in generic form, and you chose to use it, don't forget to check and see if it's less expensive if you don't use your insurance!
Additionally, if you are having trouble paying for your medication, check the manufacturers website.  Novartis had a program that saved me $25.00 off of one of my medicines (for a year) and so I applied and was accepted.  That was a $300.00 a year savings.    There are associations and groups you might already belong to (thinking of AAA and AARP ) that have pharmacy and prescription programs that might help.  Be careful of what you might find with a generic search on the web as not every advertiser on the web offering a discount is legitimate!  Do not give out your personal information to these websites before you thoroughly check them out… and  if unsure, run the other way!
Lastly I would just like to point out one example with one of my own prescriptions.  At  tier 3 – $50.00 copay, the actual cost of the medicine was only $58.10.  So if I didn't use or have any insurance the price was less than $10.00 more, the insurance company was paying just $8.10 ~~ while it kept it at tier 3 and made me pay $50.00.  How is that fair?   How do they determine tiers anyway?  At tier 2, they would pay $23.10 and I would pay $35.00 — at tier 1 they would pay $43.10 and I would pay $15.00 — and how terrible would that have been?  After all I pay them alot of money per month to even have a plan with them and they don't pay anything at all, even for prescriptions till after I have made my $1500.00 deductible each year.
So to sum up, generic can cut your overall costs, check prices to see if your insurance copayment costs you MORE than the medicine's regular price, and keep your eyes on those tiers.  Unfortunately, I don't think we can do a darn thing about the insurance companies denying to pay for certain prescription drugs.
This article is about my specific prescription for allergy medicine and my annoyance with the insurance company over pricing, tiers and being able to deny medicine prescribed by a doctor – all of it is, as you might know by now, totally my opinion and from my viewpoint.