I know that most of you are looking for something annoying to read – sorry not today.  Instead,  I wanted to share my Harris Teeter Super Doubles Shopping trip because it shows that anyone really can do it.
First, if you want to just go to the store with all your coupons and walk around checking prices and matching – that's certainly up to you, but I much prefer the prepared approach.  Why?  I don't have to keep walking around the store finding the great deals or spend hours in the store — I let someone else do that for me.
This is also not my regular shopping trip – the trips this week are specifically tailored to the Super Double Event.  To prepare I read several blogs that list the "Harris Teeter match-ups".  I find these by just typing into my search engine "Harris Teeter match ups and the date the sale starts".  These blogger sites go to almost extreme lengths to not only to find what's going to be on sale, but also which coupons match up with the sales, and therefore can get you the best shopping trip …ever (or at least a really good one!).  Some of the sites just match up a few of the best deals for the week, and others provide more — like unadvertised sales and coupon match-ups.  Some even provide the "free with coupons list" or the "under $1.00 lists".  I find all of these valuable and am so glad they are able to do them for me and the other Harris Teeter shoppers. 
While searching their lists – if I find something I want or need, I will use the provided link (if there is one) and print out a coupon for that item.  I also go up to the Harris Teeter website and check out the E-VIC (their loyalty program) to see if there are any coupons I want to add to my card (these are called ZVR).  ZVR coupons are taken off automatically at the register when you use your card and buy the specific products and are in addition to your printed/doubled coupons.  These sometimes will make an item totally free, and other times even make you a small profit. If you have other cards that give you points, bonuses or rewards or where you can add coupons to your cards – you might want to check those out as well.
NOTE: You must have an E-VIC card to be eligible for the Super Doubles, and sign up online to take advantage of the ZVR coupons.
I always read several of the blogs looking mostly for products I use (first choice) and then for products that with the coupon are free.  Sometimes there are tons of choices, and sometimes not so many.  If there are only a few deals I can do, I don't even go unless the products are everyday ones we use (think coffee, paper towels, toilet paper, cat food). If I find a lot – I will usually make up to about 4 trips in the 7 days of the sale.  Remember, coupon redemption is limited to just 20 which can be doubled in a day, and so 4 trips = 4 different days.
When doing this I make as many 20 coupon lists as I can.  I go with one list, which has the product, the price, and the coupon I have that match up (and I put the coupons in the order of the list).  I know I should put the list in the order the store is laid out, but I find there are differences in the different Harris Teeters and so far I haven't gone that far — and haven't needed to!  If they are out of one of the products on list one, I then go to the next list and pack of coupons to see if I can find something in that one to substitute.  I am rarely prepared to take advantage of a surprise sale on something, but I always can get my 20 items – which makes the trip more efficient for me.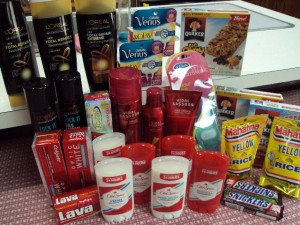 So let's see what I was able to do this time.
3 Quaker BIG Chewy Bars, 6 Old Spice Deodorant (one coupon for 2 products), 3 Colgate Toothpaste, 1 Bar of Lava Soap, 3 L'Oreal Advanced Shampoo or Conditioner, 2 L'Oreal Advance Styling Products, 3 Vidal Sassoon Styling Products, 1 Dr. Scholls full innersoles, 2 Mahatma Rice Products (1 coupon on 2)… and then 2 Venus Razor Refills and 2 Snickers bars.  The Venus Razor refills were marked down to $6.24 each and I had one $4.00 coupon and one $5.00 coupon which I used on those (you almost never find them marked down) and I used 2 free coupons for the Snickers Bars.
Grand total for my trip?  $6.78 (tax was $2.97 of that).  You can see on my list I had a ZVR of $2.00 taken off this trip.   It says coupons tendered $105.43, but that might include the sales items, and my extra coupons for my Venus refills, snickers bars and ZVR.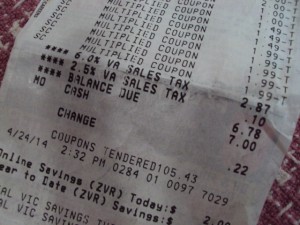 Yes, I totally enjoyed that trip.  Thank you Harris Teeter for having the Super Doubles event, and especially for not being out of stock of the coupon items.
So do you have a Harris Teeter by you?  Or another store that doubles up to $2.00 face value? 
**Disclosure: I was not paid by anyone to write this article, nor was I influenced in any way – all opinions expressed here are 100% mine.