For the last few months, I had stopped shopping at Harris Teeter. I usually want to find a bargain and stretch our dollars as far as they will go…. and the deals – for me – were elsewhere. I always like to use up my pantry items too… so it was a slow shopping period overall.
Harris Teeter this week has what they call Super Double Coupons… where they will double up to a $2.00 coupon. Yes, that means that a $2.00 coupon will double to $4.00 off! No one else around here even doubles the $1.00 ones, so it's usually a great "event" for me to participate in! There are limitations, and rules, of course — there always are!
But even I skipped the last two Super Double Events — because usually to make the best deals, the items need to be on sale (already reduced in price) and then the coupon matches and doubles — kind of like a double play. This week they are already out of some of their sale items, and if they are, I always ask for a rain check — hoping somewhere down the line to use them. Their rain checks as far as I know, don't expire!
This week however I spent yesterday (the day I found out they were offering the Super Doubles) checking and looking through all my coupons. Reading what was on sale and checking with the sites on the web that list what's on sale each week at the different supermarket chains. From reading all of that, I made my list and organized my coupons. The rules at Harris Teeter include the fact, that you can only use 3 of one type of regular coupon, or 2 of any internet printed coupons per trip, with a limit of 20 coupons per day. You can use more that won't or can't double, but the limit for doubling them is 20.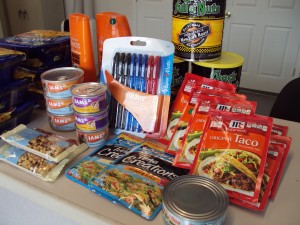 Here's what I was able to get –  3 Bottles of Shampoo or Conditioner (Garnier Fructis), 6 cans of Iams Cat Food, 2 Star Kist Creations, 3 Think Thin Bars, 8 Packages of McCormick Taco Seasoning (this is the only one I have found that uses Potato Starch instead of CORN products… that's important to me because I am allergic to corn), One InkJoy Pens, 6 Yakisobi Noodles, 3 Containers of Chock Full of Nuts Coffee and one can of Chicken of the Sea Tuna.   Can you guess how much my total was?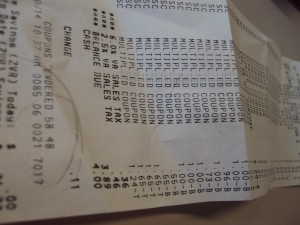 YES… that's right, even with the tax, it was $3.89.  (.82 cents of which was tax!!).  I do have to add a caveat though…  I had a $5.00 credit applied to my Harris Teeter account from a previous error during my last shopping trip.  AND so, maybe because of that….  the cash register wouldn't accept 2 of my coupons, and I think if it would have, I would have been about the same or less (there was one $2.00 and one $1.00) it just would not take them, and since I was very happy with the overall total, I didn't press the issue (plus I can use those two tomorrow). 
I want to just say Thank You to Mary over at Sweepingme for encouraging me with all her great CVS shops! I really enjoy reading about her trips and seeing how she stretches her dollars!  I am planning on making a few trips to CVS myself to see if I can do as well!