I am going to be doing a series of soup recipes here on my blog.  You might ask why? — but I think there is nothing more satisfying that a hot cup of soup and some homemade bread on a cold fall or winter day.  There is no rhyme or reason the the way or sequence that I will use with these recipes and I hope you will try them and leave a comment on the blog as to whether it was a keeper or not in your house.
SOUP NUMBER ONE ~ Easy Creamy Potato Soup
This first soup was quick and easy and delicious.  I often make things based on what is on sale, or what I happen to have in the house.  I have learned over the years some bits and pieces of substitutions that work and so even though something may not "call for it" in a recipe – I am not afraid to try new things.
That said ~~  this soup was really easy to make, and delicious.  It was rich but not spicy at all.  We happen to like it that way… you may want to add additional seasonings to your if you like it spicier.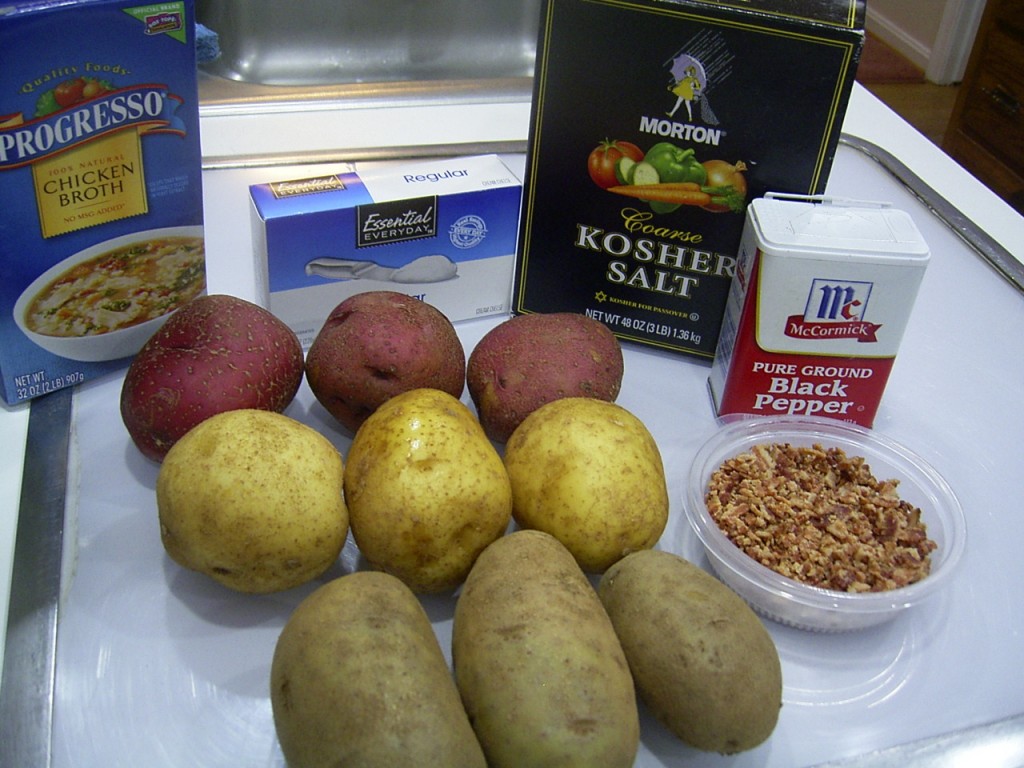 6 cups chicken broth
10 decent size potatoes (I used 3 different types – yukon gold, red and russet)
  ~ approx. 6 cups cubed
1 8oz package of cream cheese  (leave it out to warm to room temperature)
Salt and Pepper to taste
4 Slices of Bacon (cooked and crumbled for garnish)
Peel the potatoes and cut into approximately 1/2-1 inch cubes; approximately 6 cups.  I needed to add one more potato than pictured to get my 6 cups cubed.
Place the potatoes in your soup pot with 6 cups of chicken broth.  I used the 32 oz container pictured and another can to get to my 6 cups of broth.
Add salt/pepper to taste.
Cook until the potatoes are tender/done.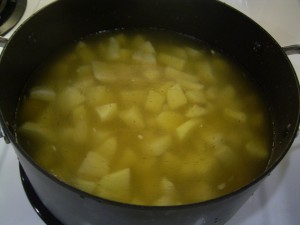 The picture here is the potatoes in the chicken broth once they were cooked.  You will need to mash up some ~  to all of the potatoes in the pot till you get a consistency you like.  Just  take some out, mash them and add them back into the pot.  I did mine in batches.   The starch released from the mashing of the potatoes will thicken up the soup.
I actually took out some potatoes, mashed them, and then returned them directly back to the soup pot.  I did this till my soup was 90% creamy with just a small hint of some chunks of potatoes.
Note: You can take them in batches and but them in a blender, or you can use a handheld immersion blender and keep them in the pot.  In my case, I did them by hand a little at a time as I wanted to have some chunks of potatoes in my soup.
Once you are ready add the cream cheese.  You should cut the cream cheese in chunks if you didn't leave it out to warm to room temperature (I put mine away after the picture) because it will take much longer to completely melt into the soup if it's one large cold chunk!
Cook and stir, stir, stir. 
I had to stir for longer than I wanted because I didn't leave the cream cheese to warm to room temperature …. I am hoping you remember and don't have to quite stir that much.
Serve immediately (or simmer till ready, stirring regularly) and garnish with the cooked and crumbled bacon.  And yes, I forgot to take a picture of the finished soup in the dish, but I promise I'll take them in the future.